Buoyed with the overwhelming response of our customers and encouraged by their positive comments and suggestions, the company also introduced BURGERS, CHICKEN NUGGETS & LOLLIPOPS, SPRING ROLLS, FRIES and a host of Hot & Cold beverages.
Started in Oct. 2008 with its first outlet at Sarabha Nagar Main Market, Ludhiana, Punjab, the company chose to adopt the Franchising Business Model for its expansion and has already reached a landmark figure by having opened 16 franchisee outlets in 16 months, a speed unmatched by any other food brand making it the fastest among the Fast Food brands. The company plans to speed up its expansion operations still further with an aim to open 200 franchised outlets in the next five years. The vision of the company is to provide every Samosa lover with the best of Samosas and rid him of the sub standard unhygienic and unhealthy samosa dished out to him by the unscrupulous road side vendor.
What is interesting is that the "Samosa Junction" has given this humble and simple snack the status of MAHARAJA OF SNACKS, as lots of research has gone into transforming the Samosa into a Protein Rich, Low Fat Health Food.
Best quality ingredients are used to prepare the Samosa which is fried in a healthy, cholesterol free refined oil. Having a balanced combination of Saturated Fats, Mono-unsaturated Fats and Poly-unsaturated Fats; which is a known heart friendly combination. A bite of the protein rich low fat health food Samosa will be enough to make you forget the age old Samosas you have been eating so far.
So say goodbye to all the junk food and say Khush-Aamdeed to Samosa Junction.
---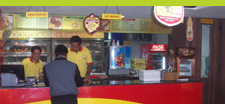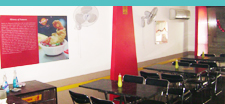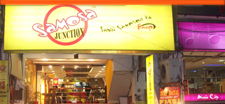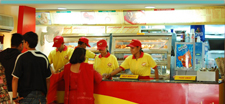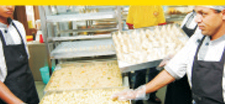 ---
History of Samosa

Samosa, the Maharaja of Indian Snacks, the very sight of which makes one drool, the golden triangle stuffed with exotic ginger-spiked potatoes, pomegranate seeds, raisins and chopped chilies that originated in the 9th century is believed to have travelled to India from Central Asia. Known as Sanbusak or Sanbusaj in Egypt, Syria and Lebanon the Samosa was praised by Ishaq Ibn Ibrahim-Al-Mausili in a poem written by him in the 9th century. It became a hot favorite Indian cuisine, a food fit for the King whose praises have been sung by non other than Amir Khusro.
Ibn Batuta wrote about the Sanbusak as "Minced meat cooked with almonds, pistachios, onions and spices placed inside a thin envelope of wheat and deep- fried in the ghee". The Samosa obtained a royal stamp with its inclusion in the Ain-I-Akbari which declared that among dished cooked with wheat there is the Qutab, which the people of Hind called Sanbusaj.
The current day Samosas are small, crispy pastries that are usually deep- fried. They are stuffed with an assortment of fillings ranging from mince meat with herbs and spices to vegetables such as cauliflower and potatoes. But whatever the fillings, Samosas are a treasured snack…. the perfect companion to a cup of Chai.
An aesthetically designed sit-down family restaurant serving 22 varieties of mouth-watering veg. and non-veg. samosas along with other delicious snacks like BURGERS, CHICKEN NUGGETS & LOLLIPOPS, SPRING ROLLS, FRIES and a host of Hot & Cold beverages is what we call "SAMOSA JUNCTION". Besides this, Cash-n-Carry and Kiosk models are also planned to cater to malls, multiplexes, marriages and other high footfall areas.
In manufacturing our samosas we are proud of our unique and well-maintained facilities in food processing technique. All our samosas are prepared in a hygienic and modern kitchen, with NO PRESERVATIVE ADDED.
Our research team keeps on experimenting with various combinations of Herbs and Spices with the other main ingredients of each variety to give the Samosas a distinct flavour and high taste. The hallmark of Samosa Junction is that, "WE SERVE WITH A SMILE"