Samosa Junction
Franchise at a Glance
Brand Promoters Pvt. Ltd. is going to put Samosa, an all time favorite Indian Snack into organized retail by introducing retail chain for selling Samosas under the brand name Samosa Junction.
What is interesting is that the company has given this humble and simple snack the status of MAHARAJA OF SNACKS, as lots of research has gone into transforming the Samosa into a Protein Rich, Low Fat Health Food.
Best quality ingredients are used to prepare the Samosa which is fried in healthy, cholesterol free refined oil. Having a balanced combination of Saturated Fats, Mono-unsaturated Fats and Poly-unsaturated Fats; which is a known heart friendly combination.
The company plans to open 500 small retail outlets across various cities. These outlets will be franchise operated in three different models.
The Samosa Junction will be selling more than 22 varieties of veg. and non-veg. Samosas prepared separately in a hygienic and modern kitchen. A bite of the protein rich low fat health food Samosa will be enough to make you forget the age old Samosas you have be eating so far.
So say goodbye to all the junk food and say Khush-Aamdeed to Samosa Junction.
Processing of Samosa

In manufacturing, we are proud of our unique and well-maintained facilities in food processing technique. All our samosas are prepared separately in a hygienic and modern kitchen for veg. and non veg., with NO PRESERVATIVE ADDED
Busniess Model - Restaurant and Base Kitchen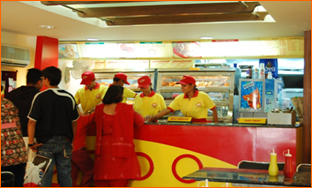 Area: 1000 to 1200sq ft
Products: 22 Varieties Samosa, Veg.-Non Veg. Samosa Platters , Samosa Chats, Veg and Non Veg Burgers, French Fries, Chicken Nuggets, Chicken Basket, Veg & Non Veg Sandwiches, Shakes, Ice Cream, Tea, Coffee and Drinks.
Kitchen: There should be Kitchen facility to prepare Samosa as mentioned above. It may be with in the restaurant or outside the restaurant.
Serving Method: We are using "Prepare on Order" concept that involved no heavy cooking at outlet. The Samosas only needs to have deep frying and serve with special sauces.
Electricity: Electric Fryer, chiller, freezer, lighting, water drainage
Franchise at a Glance - Minimum Investment And Maximum Profit
Franchising opportunity is now available. Become an entrepreneur with lowest possible investment. You do not require any special skills. All you have to do is to manage the outlet that is quite easy to operate.
We will provide you comprehensive training, support, business advise, branding, operations, sales promotions and marketing. We will also help our franchises to negotiate with the centre manager for the cheapest possible rent.
Although, we have a tested and recommended business model, we appreciate franchises need to individualize their design, operations etc. We are not to interfere in your operations and financials; however we will provide training and advice as needed.
Making a profitable franchise is our paramount goal which we aim to achieve it by keeping our joining fee and ongoing cost very low and provide you with high-value support. We have been very innovative and pro-active in achieving this goal. Becoming our franchisee gives you a number of great benefits that are not limited to the following:
Low investment (ideal for entrepreneur with low start up capital)
Low risk
High income
Easy to operate and manage
Full training provided
Assistance with lease negotiations
Access to all recipes
Regular supply
Assistance with marketing, branding and POS
Experience the return of investment in months
| Sr. No. | Particular | Descriptions |
| --- | --- | --- |
| 1 | Area Required | 500 sq. ft. onwards |
| 2 | Franchisor | M/s Brand Promoters Pvt. Ltd. (Samosa Junction) |
| 3 | Franchisee | ..................... |
| 4 | Nature of operation | Franchisee Operated with Base Kitchen |
| 5 | Royalty to Franchisor / Advertisement Share | 5% (3%+2%) of net sales of (Gross sales minus sales tax and applicable VAT). Payable by 10th of the next month on submission of certified sales report to M/s Brand Promoters Pvt. Ltd. |
| 6 | License Term | Total 9 years and thereafter on mutually agreeable terms. |
| 7 | Interiors & Kitchen equipments | Total infrastructure and all necessary kitchen equipments with power back-up will provided by the franchisee, all necessary up-gradation will also be provided by the Franchisee (apprx. 10 lacs as investment towards making restaurant ,kitchen and Home Delivery vehicle ) |
| 8 | Opening and Advertising | Apprx. 2 lacs as investment towards opening, branding and advertisements. |
| 9 | Running & Operating Costs | All such costs will be borne by Franchisee included rental, Salaries, Electricity charges etc. |
| 10 | Licenses | All Statutory Licenses will be obtained by Franchisee. |
| 11 | Technical Requirements & Site Readiness | Franchisee shall provide the Technical requirements like civil, electricity load, Drainage, Water supply etc. |
| 12 | Agreement | Detailed License agreement to be signed prior to the operation. |
| 13 | Role of the Company | All necessary help to be provided such as Recipes, Manpower Training, Marketing Material (soft copies), Packaging Material (soft copies), Billing software, Universal Advt. Support, Technical knowhow, Processes & detail of Kitchen equipment etc. On site and ongoing support. |
For State Franchisee & Unit Franchisee Contact:
Franchisee Development Head
Name: Mr. Ranbir Singh
Mobile: +91 95010 10111
E-mail: brandpromoters111@gmail.com
Name: Mr. K P Singh
Mobile: +91 81468 55477